Chicken Sausage with Vegetables and Shirataki Noodles Recipe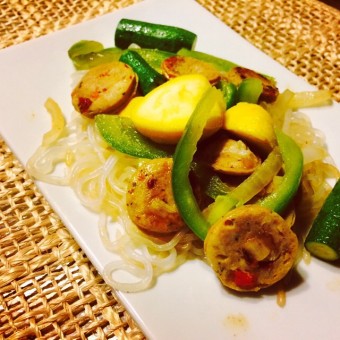 This recipe was something I sort of threw together for a quick and easy meal on a day when I was totally swamped with work and just wanted something really quick, healthy, loaded with vegetables, gluten free, low carb, and Paleo.  Now thats a tall order but I had some Miracle Noodles on hand and some chicken sausage in the fridge so I put this together and it turned out amazing.  Posted a quick shot on Instagram (#TammySkyeRecipes)  and so many people wanted the recipe that I just had to share it here on FiberNoodles.
Not only is this recipe really quick and easy to make, but its also versatile.  You can use any of your favorite varieties and flavors of sausage for this recipe.  In this case, I used the uncured Asiago and Red pepper chicken sausage from Trader Joes, but it would be just as delicious with a rich italian sausage, or garlic and herb sausage.
I should mention that the healthiest sausage option is to make your own sausage patties or links using fresh ground turkey, beef, pork, or chicken and add your own seasoning and fresh herbs.  When you make your own homemade sausage, you have greater control over the amount of sodium in them and can avoid hidden sugars that are sometimes found in commercial sausage and links.
As a lover of Shirataki Noodles recipes, a super busy person (most days), and an everyday low carb dieter, this was a delicious recipe that tasted great and really hit the spot.  Doesn't everybody love pasta?
Chicken Sausage with Vegetables and Shirataki Noodles Recipe
8 ounces spiced Chicken Sausage, sliced
2 Packages Shirataki Noodles, Angel Hair (Miracle Noodles)
1/2 Bell Pepper, Cut into thin strips
1 1/2 cups Summer Squash, sliced or cubed
1/4 Onions
1 Tablespoon butter
2 Tbs. Red wine vinegar
1/4 teaspoon basil, dried
1/2 teaspoon garlic powder
Pinch of Red pepper flakes
1/4 cup chicken broth
Sea salt to taste
Directions
Dry roast Shirataki Noodles in a hot pan for a minute (until they squeak) and set aside.  Caramelize onions and peppers in butter for one minute on medium to high heat.  Add the sausage and stir until lightly browned and cooked.  Add the rest of the spices, the Miracle Noodles, and deglaze the pan with chicken broth to create a light sauce.   Remove from the heat and serve.
Makes 4 servings